I have always had something of a love-hate relationship with horror games. For example, I'm always excited to start up a new horror game, but then once I actually get down to playing it, I start getting way too tense and stuff; there have been times I just totally stopped playing a game just because I couldn't handle the atmosphere; Amnesia : The Dark Descent and Outlast did that to me, among many others. I don't even know how I managed to get to the end of F.E.A.R as well. So, with some trepidation, I booted up Get Even. Did I manage to complete it? Well, if I didn't, I wouldn't be writing this review, now, would I?
We play as the protagonist, Black, with almost no memories at all concerning recent events; the only thing he remembers is trying to save a teenage girl with a bomb strapped to her chest, and failing to rescue her. With a machine called the Pandora fixed to his head, Black tries to get back his memories, and in the process unravel the mystery of the girl. Throughout this journey Black is accompanied by a mysterious entity who calls himself "Red". Who is this Red guy, and his Pandora tech? What is this abandoned asylum we're stuck in? Especially considering it isn't as abandoned as one would like to believe, with creepy, disturbing inmates for company? Lots of questions to start with, and no answers whatsoever. And thus we begin to go down the rabbit hole.
                                                  Goddamn spooky places…
Get Even is a first-person shooter game, so the first thing to deal with would be, how does the gameplay stand up? Well, I'm glad to say it holds up quite well, actually. It starts off as a traditional shooter fare, but with the difficulty ramped up a few notches more than usual. Enemies go down with 1-3 well-placed shots, but so do we. Stealthy gameplay is encouraged, and it is ideal to kill nobody along the way so as not to distort the memories we're reliving. When we do have to go loud, the shooting mechanics hold up nicely. In addition, Black has a weapon called the CornerGun, one with the ability to, you guessed it, shoot around corners with the aid of a joint at the center of the weapon. With its help, one can chill in cover and still kill the enemies without poking our heads out, as often.
However, Black is more of a detective than a killing machine. For this purpose, he has a smartphone which is way smarter than the normal ones. It is equipped with myriad features such as an IR scanner and a UV device among others. The camera in the phone is also the chief way you get about gathering the required evidence, apart from reading newspaper cutouts and flyers lying around the place. Not just that, though; the camera also locates some irregularities in the memories, and can remove obstacles, put up new ones as cover, or open up shortcuts on the map. It also serves as Black's gun scope when shooting up people. And at the end of the missions, we get to visit the Evidence Room where we get to view all the evidence we have collected, and this adds an element of replayability for the completionists among us, if they happened to miss some of the evidence during the first playthrough of the mission.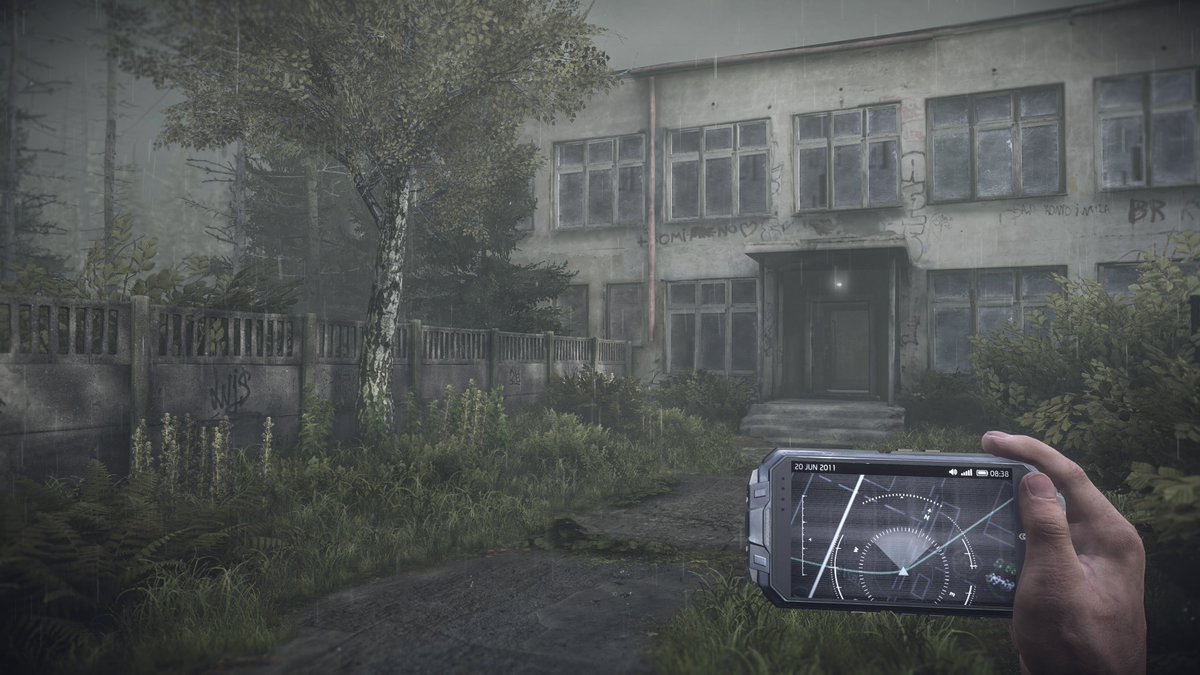 Don't underestimate this phone, bruh…
The game's atmosphere is superb. As in, superbly bleak and moody, with dilapidated warehouses, the spooky asylum with the crazy inmates and whatnot. The environment sets up the mood brilliantly, and the soundtrack of the game is just godly. It varies all the way from western classical music to a k-pop type number which kicks in during a mission where stuff begins to go sideways. This soundtrack is quite possibly the best I've encountered among the newer games. Added to this, is the choice system in the game. Do you choose to go in guns blazing, or a silent, stealthy approach? Should you let that asylum inmate out of his cell or just leave him in there? These choices make more impact than one would expect.
Not to say that Get Even is completely devoid of flaws, though. First of all, the protagonist Black cannot jump; there are some small obstacles which you think you would easily be able to bypass, but Black can't vault even the minutest of walls. Also the stealth part of the game could have been executed better; at the very least it could have been improved from being an avoid-the-vision-cones gameplay it ended up being, which seems too barebones in approach to me although it does get the job done.
But when viewed in an overall sense, it is evident that the positives far outweigh the negatives. Pick up Get Even if for nothing, then just to experience the story, which develops in a psychological-thriller style, which totally works for me as I am a hardcore fan of the genre.
RATING : 8.5/10
PROS :
– Great plot and progression
– Nifty plot devices
– Atmosphere and environment
– Godly soundtrack
– Choices dictate outcomes
CONS :
– stealth gameplay is meh
– guy can't even jump